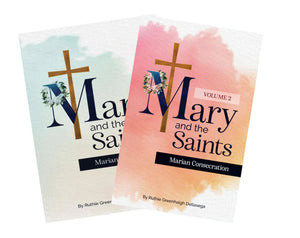 Average time before shipping: 2 Business Days
Shipping Method: Media Mail
By Ruthie Dellasega
Author, Ruthie Dellasega, will sign each copy ordered!
Purchase together at a discount!
Mary and the Saints Vol 1 - Each day throughout this consecration, learn about a different Marian devotion, teaching or story as given to us by the saints and others!
Mary and the Saints Vol 2 - In this second volume of Mary and the Saints, journey with 33 new saints and others as they teach us about the important role Mary wants to play in our lives.